How We Fish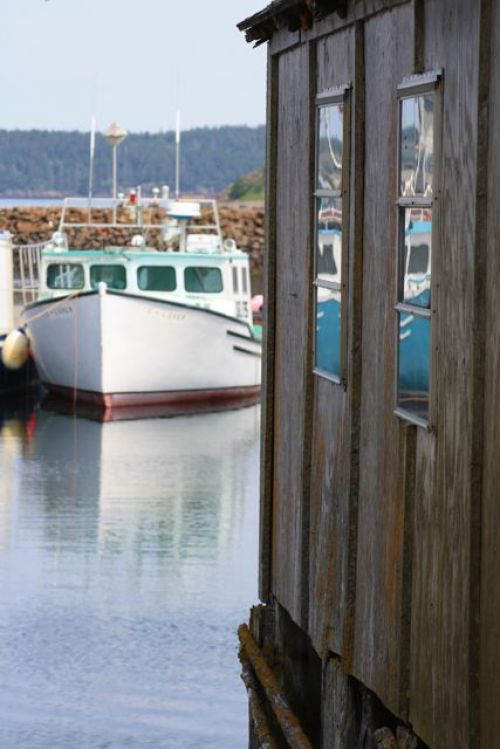 Right now, most of the fish caught off Nova Scotia's shores, even by the conscientious, small-scale operations, get absorbed into the large-scale, industrial production, so there's no way to tell how it was caught when it arrives on our table. The fish is often shipped elsewhere in the world, only to eventually arrive back here in town, frozen and processed, often adding a huge carbon footprint.
The large-scale seafood industry also camouflages the fact that like produce, most seafood has a "season". Although legally Off the Hook's fishing members may catch groundfish with a bottom hook and line most times of the year, sometimes it is not feasible to do so due to the weather in the North Atlantic. By November, the weather is often too dangerous to fish, or else fishers in the area have switched their gear to catch lobster. In late spring, while groundfish are spawning, they can also be difficult to catch on a line.
All of Off the Hook's fish shares are caught by fishing members with a bottom hook and line. This gear is a low-impact alternative to bottom trawling, an industrial non-selective method of fishing often known as "dragging" in Atlantic Canada. To learn more, check out How We Fish Matters, a comprehensive analysis of the severity of habitat impacts and discarded bycatch resulting from major commercial fishing gears used in Canada.
Off the Hook's fishing members care about the future of their fishery and the communities that depend upon healthy marine ecosystems. They believe in sustainable fishing practices and are working for the future of their communities.
Because it costs a little more to catch groundfish in a sustainable way, owner-operator bottom hook and line boats operate with a much smaller economic margin than their larger industrial peers. However, despite the high quality of the catch, they are often still offered the same price as dragger-caught fish at the wharf. Direct marketing enterprises can help fishermen get a better price for their catch, helping to protect thier livelihoods and ensure that low-impact fishing gears continue to be used.

Our fishermen catch groundfish, which are species of fish that spend most of their time in habitat close to the sea floor. Haddock makes up most of their catches, though hake and the occasional pollock may be included as part of your share. These species are very similar when it comes to cooking and recipes can be interchanged.
| Product | Jan | Feb | Mar | Apr | May | Jun | Jul | Aug | Sep | Oct | Nov | Dec |
| --- | --- | --- | --- | --- | --- | --- | --- | --- | --- | --- | --- | --- |
| Haddock note | &nbsp | &nbsp | &nbsp | | | | | | | | | &nbsp |
| Hake note | &nbsp | &nbsp | &nbsp | | | | | | | | | &nbsp |
| Pollock note | &nbsp | &nbsp | &nbsp | | | | | | | | | &nbsp |
| Cod | &nbsp | &nbsp | &nbsp | | | | | | | | | &nbsp |