Atlantic Canada's First Community Supported Fishery
Fresh Fair Fish is on the way!
We have been busy building our network of small scale, sustainable fisheries, and working out logistics for processing, cold storage, and delivery. We are excited to announce a pilot season of hook and line caught groundfish frozen at the peak of freshness- immediately after being landed and filleted. This is called "Individually Quick Frozen" (IQF), and when thawed slowly- the fillets are as perfect and delicious as when the fish was first cut. This also allows our fishermen much needed flexibility on when they fish, and allows you to thaw the fish when you need it in the amount you need- even if it is only one fillet at a time. We are really pleased with the result, and we know you will be, too.
We are also excited to announce that we are partnering with TapRoot Farms to help bring our fish to more communities and a wider variety of pickup options. We will be launching a six week

season, with weekly deliveries beginning August 3. Here are the pickup options:
---
Monday
Dartmouth: Hawthorn Elementary School, Dartmouth: 4:30 - 5:30 PM
Halifax: St. Marks Anglican Church, 5522 Russell St., Halifax: 4:00 - 6:00PM
Tuesday
Halifax: The Grainery, 2385 Agricola, Halifax: 4:30 – 5:45 PM
Halifax: 2021 Brunswick Street, Halifax: 3:45 - 4:15 PM (parking out front)
Halifax: Edgewood/Oxford United Church (parking lot), 3055 Connaught, Halifax: 4:30 - 5:30 PM
Fairview/Clayton Park:58 Fredricks Ave. 6:15 - 6:45 PM
Wednesday
Bedford, 59 Douglas Drive, 4:30 - 5:30 PM
Hammonds Plains: Bloom Greenhouse and Garden Centre, 1421 Hammonds Plains Rd: 4:40 - 5:45 PM
Friday
Greenwich: Noggins Corner Farm, 10009 Hwy 1, Greenwich: 2:00 - 6:00 PM
Wolfville area: Home Delivery, 20 minute radius from the farm: 12:00 - 6:00 PM (Check here to find out if you're within the home delivery zone.)
Kingston: 878 Old French Road: 4:45 - 5:15 PM
Saturday
Prospect Road: Prospect Road Community Centre, 2141 Prospect Rd., Hatchet Lake: 10:00 AM – 1:00 PM
Eastern Passage: Emma's Eatery, 31 Cow Bay Road, Eastern Passage: Time 11:00 -11:30
Fall River: Georges P. Vanier Jr. High School, 1410 Fall River Road, Fall River: Time 11:45 -12:15
Tatamagouche: Waldegrave Farm 11 Alex Cox Rd, Tatamagouche 6:30-7:30pm
For a map of all of these pick up locations, click HERE.
---
Not only will this partnership give you more options for pickup locations and times- but it will also give you access to all of the other amazing products from small scale producers offered by TapRoot. For more on TapRoot and their CSA offerings, click here. Here are the details about the shares:
Through this partnership you'll have access to high quality seafood caught off the coast of Nova Scotia by small-scale fisheries using low-impact fishing gears. All Off the Hook seafood can be traced directly back to the fisherman who caught it.
Also keep an eye out for Off the Hook pop-up events- where we'll bring you fresh seafood at select locations from some of Nova Scotia's amazing sustainable fisheries!
For more information and to sign up for this season's deliveries, click HERE.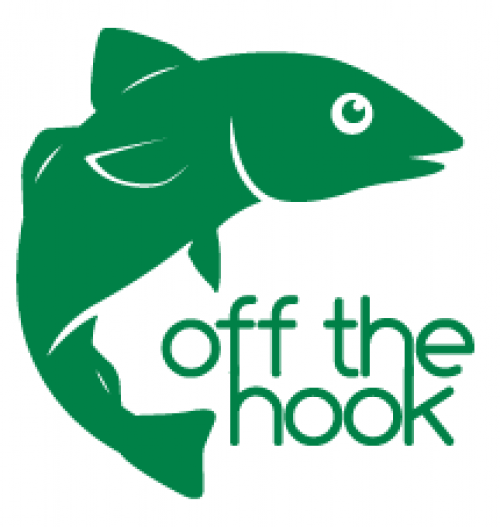 Gift certificates are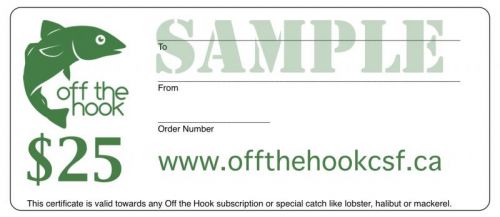 available in $10, $25, $50, and $100 denominations, and can be used towards any Off The Hook subscription or special order (like lobsters). You can pay online with any credit card through paypal- once we receive your order, we will email you a gift certificate that you can print out or email to a friend. To order, click here.
Thanks for supporting Nova Scotia's small scale fisheries.
-Off the Hook
~~~~~
Check out this video on Off the Hook by film maker Kevin Moynihan. This is the first of a series of videos based on the award-winning book, Eco-Innovators: Sustainability in Atlantic Canada, by Chris Benjamin.
________________________________________________________________


Off the Hook has been named Runner Up in a global contest: Turning the Tide for Coastal Fisheries Solutions

This is a global contest hosted by National Geographic and Rare, to surface and recognize community-based innovations for near-shore fisheries based on proven successes. There were 103 entries from 48 countries, and Off the Hook is honoured to have been awarded one of the top 3.



Thanks for your vote and your support!
-Off the Hook

+++++++++++++++++++++++++++++++++
'Off the Hook' Community Supported Fishery works to connect a co-operative of small-scale, groundfish bottom hook and line fishermen from the Bay of Fundy to subscribing customers in and around Halifax. Subscribers pay at the beginning of the summer season for weekly shares of the co-op's catch of fresh whole haddock and hake.
Like other direct marketing enterprises, CSFs can provide several benefits to small-scale fishers, including more family income, more market choices, and increased ownership and livelihood control. Since there are no 'middlemen' involved, fishermen can ensure a fair price for their catch. Because subscribers sign on to share risks, CSFs can also help keep protect fishermen's safety by allowing them to decide when it is safe to leave the wharf.
Meanwhile, Off the Hook's subscribers enjoy increased access to the freshest local, traceable, high quality fish along with renewed connections with local fishing communities and the ocean that sustains us all. Off the Hook's fish shares will never be old, frozen, or badly handled, and will always be caught by fishers who believe in sustainable fishing practices and are working for the future of their communities.