Atlantic Canada's First Community Supported Fishery
Off the Hook has teamed up with Afishionado Fish Mongers to bring you a one time opportunity to pre-order some fresh Chedabucto Bay Trap Caught Shrimp. If you have never had the chance to try these sweet gems, you're in luck. Alen Newell, who helped develop the fishery with his father, will be heading out on one of the last trips of the season On March 10, and has agreed to set some of the catch aside for you. You can order your shrimp in 5 lb bags for $25 each. Shrimp can be picked up at Afishionado Fish Mongers (2530 Agricola St) between 4-7 pm on Wednesday, March 11. PLEASE PLACE YOUR ORDER BY 5 PM TUESDAY (March 10). To order, click HERE.
For more on the story of the Chedabucto Bay Trap Caught Shrimp fishery, see this documentary which aired recently on CBC's Land and Sea.
Check back here for exciting new plans to bring you Fresh Fair Fish this summer!
Gift certificates are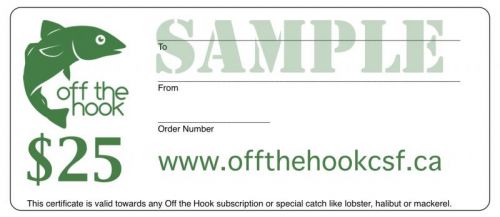 available in $10, $25, $50, and $100 denominations, and can be used towards any Off The Hook subscription or special order (like lobsters). You can pay online with any credit card through paypal- once we receive your order, we will email you a gift certificate that you can print out or email to a friend. To order, click here.
Thanks for supporting Nova Scotia's small scale fisheries.
-Off the Hook
~~~~~
Check out this video on Off the Hook by film maker Kevin Moynihan. This is the first of a series of videos based on the award-winning book, Eco-Innovators: Sustainability in Atlantic Canada, by Chris Benjamin.
________________________________________________________________


Off the Hook has been named Runner Up in a global contest: Turning the Tide for Coastal Fisheries Solutions

This is a global contest hosted by National Geographic and Rare, to surface and recognize community-based innovations for near-shore fisheries based on proven successes. There were 103 entries from 48 countries, and Off the Hook is honoured to have been awarded one of the top 3.



Thanks for your vote and your support!
-Off the Hook

+++++++++++++++++++++++++++++++++
'Off the Hook' Community Supported Fishery works to connect a co-operative of small-scale, groundfish bottom hook and line fishermen from the Bay of Fundy to subscribing customers in and around Halifax. Subscribers pay at the beginning of the summer season for weekly shares of the co-op's catch of fresh whole haddock and hake.
Like other direct marketing enterprises, CSFs can provide several benefits to small-scale fishers, including more family income, more market choices, and increased ownership and livelihood control. Since there are no 'middlemen' involved, fishermen can ensure a fair price for their catch. Because subscribers sign on to share risks, CSFs can also help keep protect fishermen's safety by allowing them to decide when it is safe to leave the wharf.
Meanwhile, Off the Hook's subscribers enjoy increased access to the freshest local, traceable, high quality fish along with renewed connections with local fishing communities and the ocean that sustains us all. Off the Hook's fish shares will never be old, frozen, or badly handled, and will always be caught by fishers who believe in sustainable fishing practices and are working for the future of their communities.