<< Back to main
Very fresh fish on the way...
Posted 11/3/2011 8:10am by Dave Adler.
Hi Folks-
Beau is on his way with some very fresh fish. A lot of it. Today's regular pickup, combined with the extra orders we got for the "Fillet Fest" amounted to 118 whole fish, and 455 pounds of fillets. He landed last night with the catch, worked late into the night sorting the fish and slushing it down, and is at the fillet plant now getting the fish cut. If you want fish any fresher, you're going to need a boat.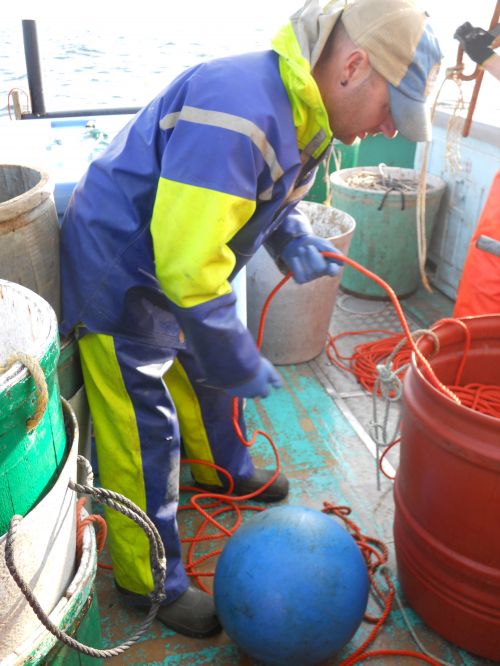 We expected that we would need a lot of fish this week, so Beau had planned on heading down to the Brown's Banks fishing grounds. Unfortunately, the storm on Sunday put an end to that plan, and Beau was forced to wait until Tuesday for the sea to calm and then head out on the Bay of Fundy. Brown's is a long trip (it's about 100 nautical miles away) but there have been reports of a lot of fish down there lately, and fishing at Brown's is less restricted by the tide. In the Bay of Fundy the tidal current is so strong that you can only fish during "slack tide" (1 hour on either side of high or low tide), when the tidal current is at its weakest. In this part of the world we have a semi-diurnal tide (two high tides and two low tides each lunar day). This means that about every 6 hours there is a two hour window that can be safely fished. Bottom hook and line fishers set their baited hooks at the beginning of this window, let it sit for as long as possible, and then haul it up before the current takes it away. If everything goes right, a boat can fish two tides in one day. This week, Beau managed to fish two tides on Tuesday, and again on Wednesday. To catch fish safely in a sustainable, traditional way, a lot of things need to go right. This week they did. Nice work, Beau.
All pickups are expected to run on schedule today. As a reminder, here are the pickup details:
Halifax: Thursdays 3-6 pm: Brewery Market* 1496 Lower Water St, Halifax. Contact: Dave 456-9353 * we are in the small building on the left of the outdoor courtyard on Lower Water Street. NOTE: LOWER WATER STREET IS NOW ONE-WAY (heading North), so adjust your route accordingly.
Wolfville: Thursdays 7-9 pm: Earth Eats Farm (1229 Deep Hollow Rd, Black River, NS). Contact: Carla 902-542-9410.
Tantallon: Thursdays 6:15-7pm. (Mariposa Picnic Area, 5229 St Margarets Bay Rd, Tant.): Contact Corine: 497-4660.
Bedford: Thursdays 4:15-6:30pm. 59 Douglass Drive (Basinview Subdivision) Contact: Sandra 469-0719
Dartmouth: Thursdays 4:30-7pm. 34 Russell St. (near the MacDonald Bridge). Contact Brenda 404-4481
North End Halifax: Thursdays 4-5:30. 2705 Fern Lane, Hfx. (Ecology Action Centre) Contact Carla: 429-2202
Lower Prospect: Fridays 9-6. 2017 Lower Prospect Road. Contact Dave: 456-9353.
Tatamagouche: Thursdays 5:45-6:30. Home Hardware Parking lot, Tatamagouche. Contact Janet: 657-0265
If you have an "alternating" subscription, this week is a whole fish week for you so plan accordingly. If you ordered extra fillets, you can pick up your fillets with your regular order.
Happy Fish Day everyone. Thanks for a great season.
-Dave